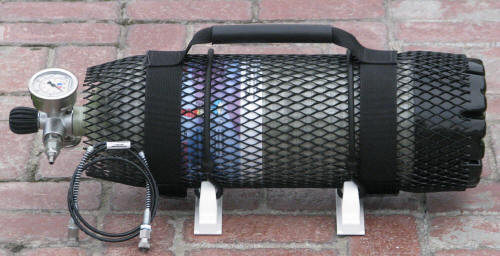 GREAT WHITE 97 Cu Ft of Air! $679
or only $629 when purchased with Shoebox or Dive Compressor
(shown here with Option 2A on hose, 2nd Gauge and Full Armor Package)



American Made Tank. 97 Cu Ft of Air! (This is the largest 4500 PSI Carbon Fiber Tank available for airguns, and we have proof!)

U.S.A. made Stainless Steel Foster Brand Female Quick Disconnect STANDARD (not a hidden option)

Available with optional 2nd Gauge (patent pending) that constantly show pressure inside the Great White




The tank above is my 97 Cu Ft (550 Cu In) 4500 PSI AIR TANK called the "Great White". They are very light, weigh less than 12 Lbs, & Measure under 21" long by 7" diameter (sans valve). This is the largest 4500 PSI Carbon Fiber Tank available. If you have an FX Rifle with 180 CC Air Tube (and you re-fill from 2000 to 3000 PSI), you would get about 75 refills with the "Great White" tank. If you have a Marauder , you would get about 62.8 refills (if you re-fill from 2000 to 3000 PSI). Note: All of my Tanks with Hose Assemblies will connect directly to the Shoebox Compressor and will also fill a Daystate, Marauder or Discovery with No Extras to buy! The Great White is the largest size tank offered and our most popular because you eventually save money making less trips to the SCUBA shop.

Everything you need to fill a Marauder or any airgun with a male quick disconnect, from tank to STAINLESS STEEL Quick Fill, i.e. LARGE High Quality 2.5" STAINLESS STEEL Glycerin-Filled Dual BAR & PSI gauge (no guessing for PSI), Improved Bleeder, 3 Ft Micro-Bore Hose with large STAINLESS ST




TJ3 SLO-FLO AIRGUN Valve (not a plain SCUBA valve that requires an external assembly that wastes air)

American made 2.5 " STAINLESS STEEL Glycerin-Filled Gauge, with BAR & PSI Scales Note: this is the largest gauge on any tank, and we don't use mulyiple adapters to attach it to the tank


40" Hose STAINLESS STEEL STRAIN RELIEF at each end (never had one kink out of thousands sold), highest PSI working pressure on the market rated over 9,100 PSI working pressure, ~ 30,000 PSI Burst (
EEL STRAIN RELIEF AT EACH END to prevent kinking, and STAINLESS STEEL Female Quick Disconnect included at no additional cost. This tank will waste less air than other tanks that don't use this special DIN300 valve (since the gauge & bleeder are all contained in the valve and not an add-on assembly).
All Great White come STANDARD with DIN300 Slo-Flo Valve, Bleeder, Stainless Steel Glycerin-Filled Gauge, 3Ft Hose w/Stainless Steel Strain Relief at each end and Stainless Steel Female Foster Quick Disconnect

(Available ONLY on my tanks)

Second Gauge (Option #1 Patent Pending) Constantly shows pressure remaining in Guppy, Tiger or Great White (Available ONLY on my tanks). Now you can just glance at our tank and see how much air is remaining. No running out of air at inopportune moments.

(Available ONLY on my tanks)

Comparison of our U.S. Made 2.5" STAINLESS STEEL Glycerin-Filled Gauge shown on Great White compared to "others". Ours mounts DIRECTLY on the valve.
Not a bunch of fittings that Lean-Back, make it stick out, catch on objects and snap off.

(Available ONLY on my tanks)
Great White with DIN300 valves are ready to go as is, and loaded to the max with upgrades, but there are now a few options available that makes the best tanks even better.
Option #1 Second Gauge that constantly shows pressure inside the Great White. (patent pending) All of my tanks come with the Highest Quality U.S. Made STAINLESS STEEL Glycerin-Filled Large 2.5" Gauge with BAR & PSI Scales that show the pressure in the hose that is filling your airgun. This second built-in gauge will allow you to know the pressure remaining in your Guppy or your Great White (so no need to buy a Dead Head that can get lost). This is on special for $39 when purchased with airtank and I highly recommend it. (See pictures at left This option CAN NOT be added to other brands of airtanks. I have replacement DIN300 TJ3 valves (just like on my tanks) for SCBA tanks or other types of tanks.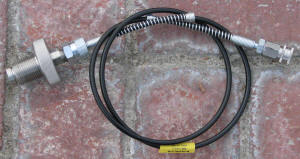 Option #2 STAINLESS STEEL Handtight DIN300. These are a very nice DIN300 Handtight fitting that replaces the wrench tight fitting the connects the hose to the Guppy or Great White (I am not referring to the other side of the hose with the STAINLESS STEEL Female Quick Disconnect that fills your airgun). This is convenient so that you don't need a wrench to remove the hose 1) when filling your tank at the SCUBA shop, 2) Traveling with your tank 3) Storing your tank. This is a finely crafted and machined STAINLESS STEEL DIN300 that looks like a piece of jewelry. It is the finishing touch if you want the ultimate system and convenience (click on the second picture to see how nice it really is! ($69 when purchased with airtank)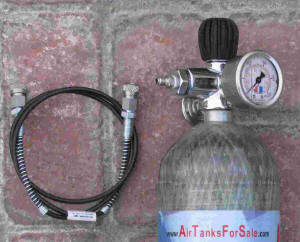 Option #2A FQD x FQD Hose with Wrench-tight DIN300 x MQD. (shown here on the Guppy). This option includes STAINLESS STEEL Female Quick Disconnects at both ends of the hose, with a STAINLESS STEEL Male Quick Disconnect on the DIN300. If you are filling your tanks at a Paintball Store,or just want to easily quick disconnect your hose from the tank when traveling or storing your tank, this is the way to go. This option is great if you run out of air while traveling, you can just go to a local paintball store for your fill. This option can be used to fill your air rifle directly from a Shoebox.
FYI:100% of our customers order Options 1, #2A #3

Option #3 Plastic Tank Protector. I've had one of these on each of my personal tanks, and the tanks always look brand new because they help protect the tank from dings and bumps. These slide over the tank and I highly recommend them. Normally $19 when purchased with a Great White (Black boot on bottom of tank not included). Everyone skips this option and goes straight for Option #4 below.
Option #4 Full Armor Package.
Convenient Carry Handle so it's easy to carry the tank,
Boot (black thing on end of tank to stand it up so you can read the gauge while filling your airgun)
Non-Scratch Feet (white things on bricks) that stop it from rolling off a table, etc.,
Tank Protector to protect your tank from getting damaged.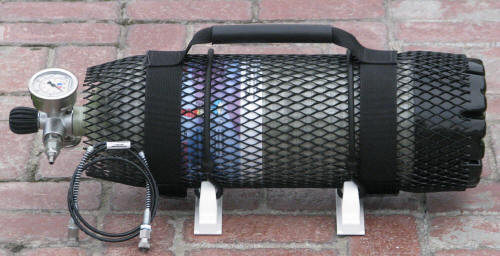 Order The GREAT WHITE WITH THE WORKS.
$777 Great White Armor-UP Package +
$39 Option 1 Patent Pending Second Gauge to show pressure inside the Great White +
$39 Option 2A FQD x FQD Hose with Wrench-Tight DIN300 x Male Foster Quick Disconnect

Option #5 Regulated DIN300 Hose Assembly. If you would like to shoot your rifle basically forever, without refilling it, this is the set-up! Tether your airgun to either your Guppy, Tiger Shark, or Great White (or any DIN300 tank) with this highest quality hose set-up. ALL STAINLESS STEEL FITTINGS AND GAUGES (Glycerin Filled!).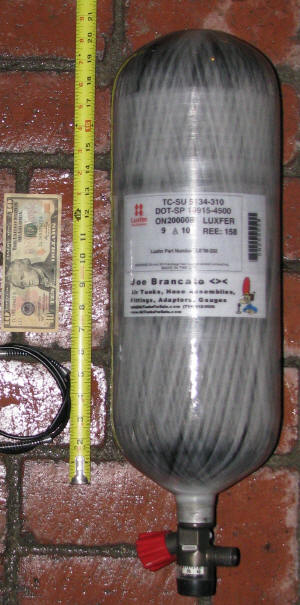 Great White SCBA / Fire Dept Version. Tank only, with SCBA valve but not the hose assembly. These are for Fire Depts. We have a full line of SCBA Tanks of various sizes. From 2216 PSI up to 4500 PSI. If you are starting fresh without any hoses, etc., go for Version DIN300 described above, as it is much easier to find places to fill it, more compact and air efficient.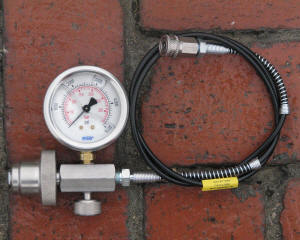 Great White Version SCBA with SCBA Hose Assembly. This is everything you would need to fill an airgun in the field. I DON'T recommend this version. The suggested DIN300 Version is Slo-Flo, much more compact and wastes less air (since the gauge & bleeder are all contained in the valve). Call for special pricing


- - - - - -
Tank Fill Adapters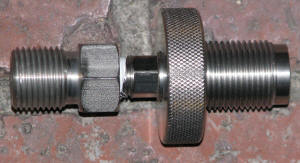 STAINLESS STEEL Fire House/SCBA Adapter to STAINLESS STEEL Hand-Tight Male DIN300. No Wrench Needed!
No Wrench Needed
Good for filling SCUBA tanks at a fire house. $89
MADE IN USA!
STAINLESS STEEL Fire House Adapter to STAINLESS STEEL Foster brand Female Quick Disconnect . No Wrench Needed
Good for filling my Carbon Fiber DIN300 tanks or Paintball Tanks at a fire house
$74 MADE IN USA!
STAINLESS STEEL Fire House Adapter to Wrench-tight DIN300 (aka STAINLESS STEEL Male SCBA Fitting to Wrench-Tight Male DIN300) . Good for two uses. 1) For filling my (and other) DIN300 Carbon Fiber and DIN300 SCUBA tanks at a fire house. $64 MADE IN USA!